Saturday, June 11th, 2022
10:00am, starting at the Shaw Metro station and ending at the Carnegie Library
I'll be leading a walking tour of Shaw for the DC History Center, along with photographer Shedrick Pelt. I'll share oral histories and historical photos as we walk.
Monday, June 6th, 2022
7:30pm via Zoom
I'll be speaking to the Historic Chevy Chase DC about the project and about neighborhood-based oral histories.
Saturday, May 21st, 2022
9am – 1pm at Crispus Attucks Park
I'll be selling and signing books at the annual Bloomingdale Community Day
Friday, April 1st, 2022
1:00-3:00pm at the Martin Luther King Jr. Memorial Library Great Hall
I'm honored to present my book as a Project Spotlight and at the History Network at the DC History Conference
Friday, February 25th, 2022
The Crisis in Book Review: an Arts Journalism Conference sponsored by Day Eight
7pm: I'll be joining the Panel Discussion and Keynote.
"The Friday night keynote session begins with a panel discussion, moderated by Maritza Rivera, and including seven area authors whose books have been assigned for review within the conference — Gregory Luce, Jenn Koiter, Sarah Katz, Shilpi Malinowski, Daniel Barbiero, Ellen Sazzman, and Jonathan Katz. Following the panel, speakers Joyce Carol Oates, Brian Broome, Russel Jacoby, and Jennifer Harlan will speak."
The online event will be streamed on Zoom: RSVP here
Sunday, February 13th, 2022
10:30am at the Valentine's Day Market at Big Bear Cafe
Meet the author. Books will be available for sale.
Sunday, December 19th, 2021
10am at the Bloomingdale Holiday Market at Big Bear Cafe
Meet the author. Books will be available for sale.
Monday, December 6th, 2021
7pm at the Third Baptist Church (5th and Q Streets NW)
Shilpi will be speaking about the book and taking questions at the East Central Civic Association Meeting! Books will be available for sale.
Wednesday, December 1st, 2021
6pm at Busboys and Poets at 14th and V Streets NW
Join me for a conversation with Washington Post reporter, author and neighbor Helena Andrews-Dyer! Helena has been working on her own book about navigating life in our gentrified, integrated neighborhood. We've both been trying to unearth the truth of this neighborhood through writing — I'm so excited to have a conversation with her and try through dialogue!
RSVP here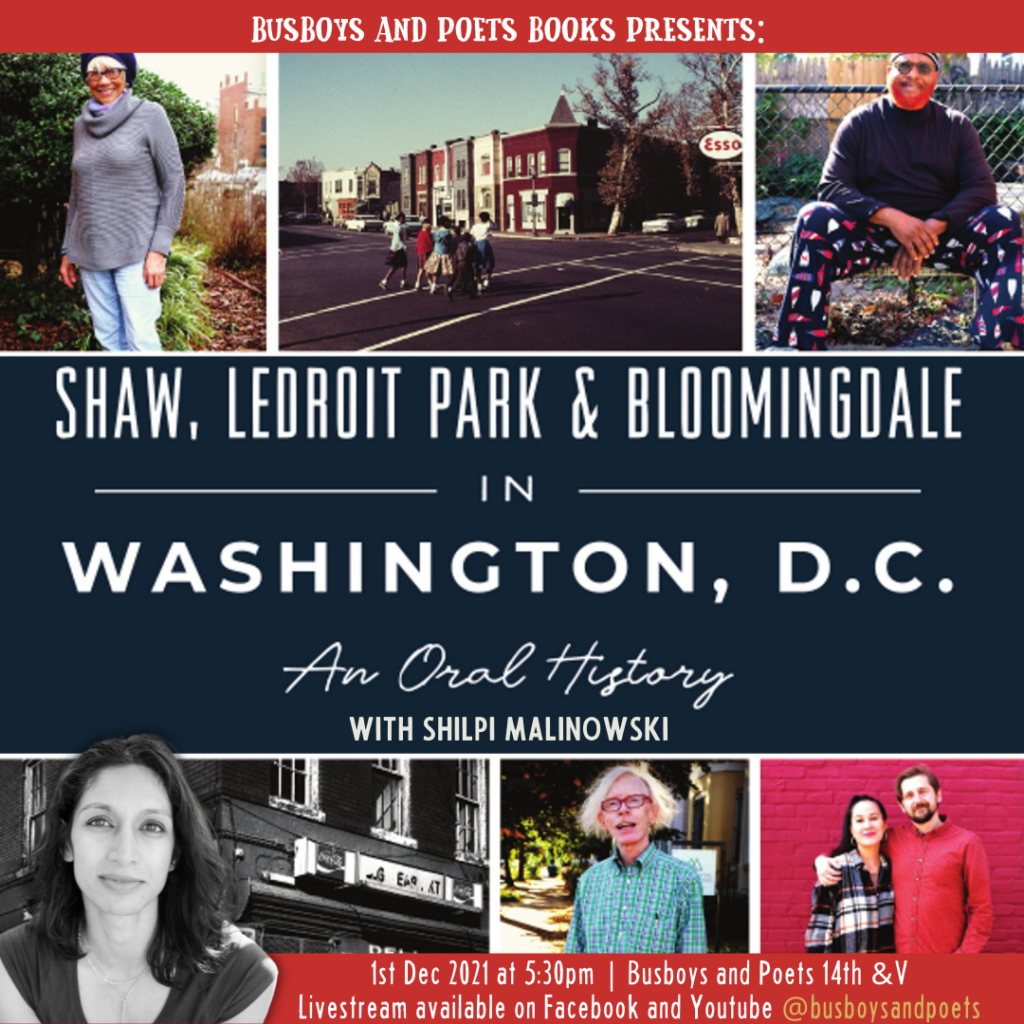 Saturday, November 20th, 2021
2pm at Bol Coop Bookstore, located in Creative Grounds
Join me for a reading and discussion, with books for sale by the store. The event will be indoors and Bol is checking for vaccine status at the door.
RSVP here
Tuesday, October 26th, 2021
5:30pm @ the grounds of Seaton Elementary School
East City Bookshop providing books for purchase
Join us for a fascinating discussion! I will sit with the narrators to discuss their experience with the neighborhood, give them their first opportunity to converse directly with each other, and to take questions from the audience.
Sunday, October 24th, 2021
1st and R Streets NW, near the Bloomingdale Farmers Market
The author will be providing books for purchase
Join me for a chance to get a signed book and to chat! I'll be sitting at a table near the Bloomingdale Farmers Market to talk with anyone who is interested and to sell a limited number of signed books.
Wednesday, October 20th, 2021
6pm @ Big Bear Cafe
Politics and Prose providing books for purchase
Join us for a celebration! I'll be there to sign books, display the portraits, chat with the community and and to toast the narrators who participated in this project. The event will be held outdoors.